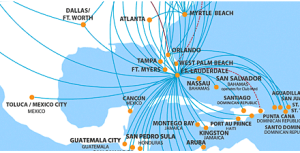 If you have not heard of Spirit Airlines then you must not be on the TravelZoo email list or researching your flights wisely. They are known for sending out deals for $8 one-way flights (plus carry-on bag fees) to popular destinations such as Las Vegas. Those who love to travel on the cheap also know the importance of having a frequent flier program. Many types of frequent flier programs are available through specific airlines and also through credit card companies. One that is becoming very popular is the Free Spirit frequent flier program from Spirit Airlines.
What are the benefits of the Free Spirit frequent flier program? Free Spirit offers miles for reward travel. Once you start earning miles, you can choose to redeem your miles for both domestic and international travel. The Free Spirit program also offers a more simplified ticker purchase for travelers on the go who don't have the time to waste on traditional purchasing options. The best perk of the Free Spirit program is that is gives members access to offers and fares only available for members. And remember: membership is free, so there's no hassle to get started.
Redeeming miles through the program is simple. Once a member has earned enough miles to book a ticket, all they have to do is call the program and request it. As little as 2500 miles will get you a ticket and if you book at least 180 days prior to departure, there is no additional redemption fee. Miles can expire through this program, but as long as a member earns miles every three months, their earned miles are safe. Members can earn miles in a variety of different ways, including flying with Spirit's partners or using their Free Spirit MasterCard at least once a month. Additional ways to earn miles through this program include staying at Choice Hotels or renting a car from Hertz.
Some of the great benefits for members also includes earning points on previously flown flights. Members can request a mileage credit for any qualifying flight as long as the frequent flier member was the one traveling on that flight. This can help boost your miles earnings right from day one.
In comparison with other frequent flier programs available, Free Spirit offers many benefits to loyal customers who love flying with Spirit Airlines. While other programs may have a little more flexibility when it comes to super savers who love to keep miles for a long time, most other programs do not provide the same high standard of customer service and support that this program offers. The price also can't be beat: the frequent flier program is free to anyone that wants to sign up. The additional cost benefit is that Spirit airlines has some of the lowest fares to more than 40 destinations in the United States, Caribbean, Bahamas and Latin America. Also, all miles earned in the program count towards elite status—not just those earned while flying. And with off-peak round trip tickets starting at just 5000 miles, the price can't be beat.
With the addition of a Spirit World MasterCard, the benefits are increased. This card provides twice the earning power for travel and everyday purchases. Cardholders can also earn 15,000 bonus miles after the first qualifying purchase. The card also includes no annual fee for the first year and many travel perks including preferred boarding and priority domestic check-in. Both the Free Spirit frequent flier program and Free Spirit MasterCard are available online and both offer the ability to manage your account online for those who want access to their miles earned anytime, anywhere.