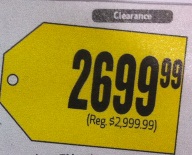 During the 2011 Super Bowl, Best Buy announced its "Buy Back" program as a solution to the problem of purchasing a state of the art item only to find it is now obsolete due to rapid technological advances. In fact, the vast majority of consumers in the vast majority of cases would be worse off by participating in the plan.
What is the Best Buy "Buy Back" Program?
Participation in the "Buy Back" program is an optional add-on that one may purchase along with certain computers, mobile phones or televisions. The costs are as follows:
Laptop, Netbook or Tablet Computer: $69.99
Mobile Phone with a Price Under $350: $39.99
Mobile Phone with a Price of at Least $350: $59.99
Television with a Price Under $500: $59.99
Television with a Price of at Least $500 and Under $1,200: $99.99
Television with a Price of at Least $1,200 and Under $2,500: $179.99
Television with a Price of at Least $2,500 and Under $5,000: $299.99
Note that if you buy Best Buy's service plan at the same time, and your purchase is in-store, the cost of the program is reduced by 50%.
What you get by participating in the program is the right to return your purchase to Best Buy and get store credit toward another purchase.
If you return the item in good condition (everything still works, and it has no more than the expected amount of wear and tear for an item of its age), you will receive the following in store credit:
Within 6 months of purchase: 50%
Within 6-12 months of purchase: 40%
Within 12-18 months of purchase: 30%
Within 18-24 months of purchase: 20%
Within 24-48 months of purchase: 10%
These amounts will be reduced by half if the item is returned in poor condition but still functional. They will be reduced to zero if the item is broken. Furthermore, if the item came with accessories, these accessories too must be returned in good working order, or the store credit you receive will be reduced to cover their cost.
The Verdict
The bottom line on the "Buy Back" program is that the amounts offered are below what you would generally get if you simply sold your used item as a private sale on Craigslist or elsewhere.
But it's worse than that, because it's possible—in fact likely—that you won't have reason to sell an item like this shortly after purchasing it, in which case the amount you paid to participate in the program is a total loss.
Furthermore, with a private sale you're getting cash, not store credit.
Exceptions Where It Might Be Worth It
One, if you don't know how to sell on Craigslist or elsewhere and have no desire to learn, then at least with the "Buy Back" program you can get something for an item you're no longer going to use.
Two, as a temporary promotion, Best Buy may make it free to participate in the program (as it did when first rolling it out). In that case, you've got nothing to lose by signing up. If the time comes that you need to sell the item, list it on Craigslist for somewhat more than what Best Buy will pay you, and if for whatever reason you're unable to find a buyer, you always have the "Buy Back" option to fall back on.
Three, most importantly, when you purchase a mobile phone, it is common to get a substantial discount for starting or extending a contract with your provider. The "Buy Back" program, though, is based on the retail price, not what you in fact ended up paying. If you buy a $500 phone for $225, and you pay $60 to participate in the program, if you then want to get rid of your phone a few months later for one you like better, you can get $250 for it from Best Buy, which means you're out almost nothing.
The "Buy Back" program is nothing great even in these circumstances, but it may be worth at least considering.