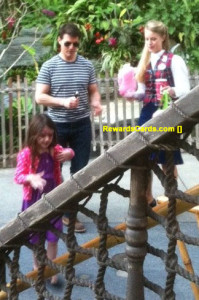 Every year, millions flock to Disney theme parks worldwide. After all it is the ultimate American family vacation, the ultimate experience of magic and wonder for the whole family. After the terrorism attacks, President Bush encouraged Americans to continue doing American things, including going to Disney World. Disney vacations aren't only for families with children. Disneyworld in Florida attracts children of all ages; they even have a wedding chapel on property where thousands have been wed since its opening.
Yet these magical vacations don't come cheap. Families will save for months and even years to visit the parks and resorts. Yet, your trip may not need to be as costly as you imagine. The list of expenses is quite high, transportation to and from Orlando, Hotel, Park Admission, Meals, Souvenirs, and on and on. Everyone that visits Disneyworld will attest that Disney is indeed worth the expense, for the memories are sure to last a lifetime.
If you are interested in a Disney trip, the best way to find out about it is to call Disney and order your free DVD planning guide. Disney is a for profit company, so they won't share you the tips to save money. For those without disposable income, this guide offers tips that can cut costs on your dream vacation. You may also tune into the Disney Channel and see if they offer any specials for the time that you are going.
We strongly recommend that you apply for a Disney Credit Card to take with you to earn back points you spend on anything Disney related. You want to apply for this card in time for it to be shipped to your home so you can use it on your Disney World Vacation.
Timing is Everything
Disneyworld knows exactly when people want to visit their parks. Peak times are usually around holidays. Thanksgiving, Christmas, and New Years encompass some of the highest attendance for the parks and resorts. Not coincidentally, these times are also when the Disney resorts have the highest rates as do the surrounding hotels. Airlines too take advantage of this time. Disney knows the crowds will come at these times, and they take full advantage of it.
There are, however, times when the park is less attended, when the crowds aren't flocking. Disney knows this too and thus lowers room rates. Generally, the best times to visit are the week after Thanksgiving until the week of Christmas, and January 2 until around Valentines Day.
The savings can really work for you, if you decide to visit the parks during a non-peak time, and not just in hotel rates.
Where to Stay
If you are going to a Disney park, most feel you should stay at a Disney resort. The Disney resort hotels offer price structures to fit most budgets, and the benefits are incredible. Benefits for staying on Disney property include:
Disney Airport transportation. For guests that stay on property, they can receive free transportation to their resorts from the airport (saving you money on a shuttle or taxi)
Disney Bus line: When on property, the Disney busses run very frequently to all resorts and all parks, their use is open to resort guests (saving you money on a rental car to get around)
Extra magic hours, where certain parks are open late and/or early exclusively for resort guests
Shopping delivery: While you are out in the parks, purchases you make may be delivered to your room, saving you the time to return them home.
And of course the Disney service standards you will not find anywhere else.
If you stay at a neighboring non-Disney hotel, you will likely save money on a room rate and you can eat food at a much lower rate. If you are not staying on Disney property, you will have o pay a parking fee for the days you visit the park, and you may not be able to use the Disney transportation. When you compare the cost and benefits of staying on Disney property to an outside hotel, rental car, airport shuttles, and Disney gate/parking fees, you may find that it is more economical to stay on property.
What to see
How long should you stay? What parks should you visit? Likely are the most difficult questions to answer. To really enjoy the parks to their fullest, a trip of 3 days or more is suggested. It is also suggested that you plan your trip before you go, using the Disney websites as a guide, outlining what attractions you want to visit, on what days. If you plan well, you can avoid long lines, and avoid crisscrossing back and forth around the parks. Even if you spent a month at Disney, you could not see everything and do everything you want to.
Here is a list of must see attractions at the parks, and an estimate of about how much time you would need to spend at each park to see these attractions. There are many more attractions, all of which are worthwhile, but no Disney trip should be without these attractions. This list and time estimates assume that you visit at a non peak time, and that you don't mind getting up early for the early entrance, and staying out late for the late park hours.
Magic Kingdom
(Spend a full day at this park, and conclude your day with the Spectromagic Parade and Wishes fireworks show)
Absolute All ages must-see:
Spectromagic night time parade (certain nights only, check schedule)
Wishes Fireworks Spectacular!
Mickey's Philharmagic
Haunted Mansion
Pirates of the Caribbean
Older audience must see:
Space Mountain (roller coaster)
Splash Mountain (log ride)
Epcot
Spend a full day here, more time if you have it in the World Showcase; conclude the day with Illuminations fireworks show
Mission Space
Test Track
Soarin
American Story (in American building)
Illuminations Fireworks
Disney/MGM Studios
Spend ¾ day here, conclude with Fantasmic Night Time show
All Ages must see
Voyage of the Little Mermaid
Fantasmic! Night time show
Muppet Vision 3-d
Indiana Jones Stunt Show
Older Audiences Must See:
Tower of Terror
Aerosmith Rock n Roller Coaster
Animal Kingdom
Spend a half day here, preferably on the early entry morning
Festival of the Lion King
Tarzan Rocks!
Safari/Animal exhibits
It's a bug's life 3-d show
Older audiences must see
Dinosaur!
Where to eat
Disney has restaurants and meals to suit every taste pallet and budget. Many of the economical hotels have cafeteria style dining available, making a great spot for a pretty inexpensive breakfast. This isn't your home town café, it is Disney remember. In the parks, there are fast food and snack shops every which way, undoubtedly the most inexpensive, and many sit down restaurants, ranging from moderate to incredibly expensive. A little tip is to visit the guest relations upon your arrival, show them your ideal itinerary for the day and your budget, and ask for suggestions on dining. Any cast member (Disney speak for employee) is trained to help with suggestions on dining, and virtually any other need you have during your stay.
Also See: Disney's Premier Visa® Card