credit report. This is one true way to get your Free Credit Score just by having a BarclayCard. We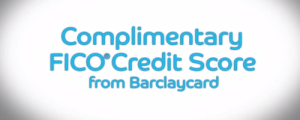 also may note that Discover Card recently switched to provide this service as well but it is not as advanced. Your FICO Score is used in more than 90% of lending decisions nationwide. As a BarclayCard Member you can view your FICO Score online at no charge and with no hidden fees or sales pitches. You may also keep in mind that checking your FICO Score through this program won't affect your credit rating. In addition to your FICO Score, you will also receive up to 2 factors affecting your score, a historical chart tracking your score (after 3 months of history), email alerts any time we learn that your score has changed.
Barclaycard has partnered with FICO, and is the first top ten card issuer to offer cardholders free FICO scores.This is extremely positive especially because before this announcement, the only way to get a free FICO credit score was signing up for a free trial at one of the three credit bureaus (Equifax, Experian, and TransUnion) or with FICO, and then canceling your membership before the trial period ends to avoid paying. And although U.S. residents are permitted by law to view their credit reports once a year for free at Annualcreditreport.com, this report does not include your credit score.
Sign up for the BarclayCard above and the service is free and easy. Once your account is setup then you log in, and follow the instructions to get your FICO Score