Las Vegas is always changing and that is a great thing. If you go one year then wait a few more years to go back it's a whole new and exciting adventure. The rewards programs change just as often in Las Vegas as do the bar, casino and hotel ownerships. Total Rewards now covers not just the Bally's but also Planet Hollywood and Caesar's.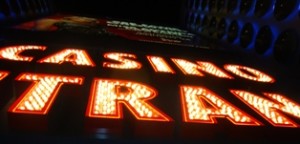 The Harrah's Total Rewards credit card offers great rewards for those who like to play frequently at Harrah's owned casinos. You earn back everytime you make a purchase anywhere including at malls and even bowling alleys. Earn Rewards Credits in your Total Rewards account managed by Harrah's Entertainment who owns Harrah's, Rio, Showboat, Harveys, Horseshoe, Caesars Palace, Grand Casino, Flamingo, Paris, and Bally's in Las Vegas. The Reward Credits earned through use of your Credit Card will be credited to your Total Rewards account each month. The maximum amount of rewards credits you can earn per month is 40,000 which is equivilent to $40,000 in spending each month. Since you earn 2,500 Total Rewards points with your first transaction on this Visa Card you can get an edge over other people when you goto Vegas or other Harrah's properties. It will make it look like you have at least some credits in your Total Rewards account and that gets you all kinds of benefits at Casinos.
You must be 18 years of age to be eligible for the credit card but 21 to be involved in the Harrah's Total Rewards program.
More about the Total Rewards Program:
It is free to enroll in the Total Rewards program from Harrah's but you better use the program often since it does expire.  Reward Credits are valid as long as at least one Reward Credit is earned every six months. If no Reward Credits are earned within a six-month period, the entire Reward Credit account balance will expire.  Total Rewards Credits are not transferable.
Harrah's Total Rewards Diamond and Platinum members now receive all-new perks and benefits including a free hotel stay in Las Vegas plus exclusive slot tournament entry,  Two for One show tickets in destinations like Las Vegas, Lake Tahoe, and New Orleans, Special birthday gifts, Reward Credit Multiplier Days (not available at Harrah's Cherokee), 30% off of select Reward catalog merchandise at participating casinos, and Exclusive gifts for 2006 tier card renewals.
Special Events with the Harrah's Total Rewards card include invitations to the World Series of Poker.
Will this card from Harrah's increase your chances of winning?
I doubt it has the power to make you win but it will save you more money so you can "invest" it into your gambling strategy while in Vegas or other resorts where you get Total Rewards.
Staying in Vegas soon?
Consider these hotel loyalty programs to save you money when you stay in the big casino's on or off the strip.
Las Vegas Rewards News
Totally a Great Gift. The Total Rewards Gift Card program is the perfect way to share the Total Rewards experience with friends and loved ones. In addition to the stores, restaurants and hotels at your favorite casino resorts, Total Rewards Gift Cards and Promotional Cards bring you even more of the brands and experiences you enjoy most! Total Rewards Gift Cards and Promotional Cards are now accepted at even more premium shops and outlets in Las Vegas.
Starwood and Total Rewards Announce Alliance.
50,000 Membership Rewards Points Offer if you own a business this is a great way to travel to Vegas.
Starwood and Harrah's Total Rewards have reached an alliance that makes it possible to stay at a W, Sheraton, Westin or any Starwood managed hotel or resort and earn Total Reward points. They are opening up this new partership with a promotion that you must sign up for…
The SPG Total Rewards promotion can make you eligible to enjoy great rates and rich rewards for stays at participating Starwood Preferred Guest properties, including W, Westin and Sheraton
* Receive two Bonus Reward Credits per eligible $1 spent at more than 500 participating SPG properties in North America from July 19 through December 31, 2010.
* Earn two Starpoints for every eligible $1* spent on all SPG stays, redeemable for Free Night Awards and Award Flights without blackout dates and much more.
To receive the Bonus Reward Credits, you must make your reservations at Starwoodpromos.com/totalrewards and stay by December 31, 2010..
Harrah's purchased the Planet Hollywood Casino which is currently a Starwood (Sheraton) resort.  This means you will not be able to book Starwood stays or accrue Starwood points at Planet Hollywood.  You will be able to use Harrah's Total Rewards which means more to gamblers than frequent hotel programs.
ARIA Las Vegas opens up in the City Center
If you are a fan of going all out in Las Vegas then you can now stay in the center of the strip at the City Center which they call the downtown of the New World.