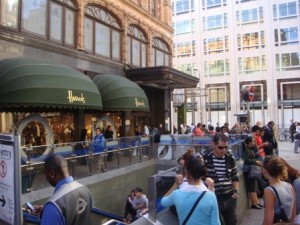 The Harrods store in Knightsbridge is more than just a shopping destination. It is also a monument to the history of the department store and even cultural history since its opening in 1849. While many stores offer store credit cards, Harrods has taken a different approach with the Harrods rewards program. With excellent online shopping options, you can use your Harrods rewards card even if you are unable to visit the store in Knightsbridge. Purchases at Harrods airport stores and Harrods 102 also qualify for the Harrods Rewards program.
What is the Harrods Rewards program? The Harrods Rewards program provides you with rewards points for each purchase made online, in the Harrods Knightsbridge store, in Harrods airport shops, or in Harrods 102 stores. The rewards points are then redeemed for store credit that may be spent in the Harrods Knightsbridge store. When you sign up for the Harrods Rewards programs, you will receive a card linked to your account to track your spending.
You will receive regular statements and can also check your rewards balance online at harrods.com. Other benefits are also available with the Harrods Rewards program, depending upon your spending level.
At the most basic rewards level, you will be entitled to special shopping days, double point shopping days, and a free rewards magazine. If you spend enough to qualify for the next level, you will add to those benefits free UK delivery on larger purchases and free coffee or tea in Harrods restaurants or cafes. At the gold rewards level, you will receive free basic alterations on purchases and two 10% discount days each year.  Also, at the higher rewards level, you will receive two points for every pound sterling you spend at Harrods. Finally, at the highest, or black, rewards level you will receive three points for each pound sterling spent at Harrods. You will also receive two hours of complimentary car parking, priority appointment service, and the ability to redeem your rewards points for store credit at any time.
The Harrods Rewards program is designed to reward dedicated Harrods shoppers. The lowest level of the program provides rewards for those spending at least 500 pounds sterling in the store or online, with the highest benefits available for shoppers who spend over 10,000 pounds sterling. The rewards program is free to shoppers and quite easy to use. Simply stop by a Rewards Station in the store either to sign up or acquire a temporary rewards card if you have forgotten or lost yours. If you enjoy shopping for the excellent selection of merchandise offered by Harrods, whether online or in person, you will enjoy the benefits of the Harrods Rewards card program.