If you drink Coke on a regular basis, then you're going to love the new deal that Coca Cola has to offer. We've seen reward programs from all different types of venues – McDonald's, Subway, Taco Bell and others – so Coca Cola has formed their own reward system.
30 Free My Coke Rewards Points
Head over to mycokerewards.com and enter code: ILOVEDIETCOKE for 30 points. This is enough to get a free 12 pack of coke products.
Read the below article for more information about participating in the My Coke Rewards program, and get started with winning free gifts!
How do I collect points?
Points are collected by creating a free online account with My Coke Rewards. If you want to participate, simply go to their website (mcr.us.icoke.com) and click on "Register," which will prompt you to give your full name, address, telephone number, e-mail address and other pertinent information. Once you've created an account, you can start collecting codes from specially marked Coca Cola products.
How do I win free stuff?
The codes that you enter online from Coca Cola products turn into points that begin to accrue through your online account. Once you've started to rack up points, you can choose gifts that you want to redeem them for.
There are nine gift categories from which you can choose: sports, music, entertainment, electronics, gaming family, fashion/beauty, travel and Coke. The amount of points you've earned determines the level of prize that you can select.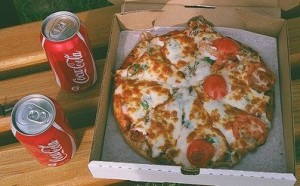 For example, if you want to choose a prize from the Electronics category, you can choose free ringbones for 16 points each or a PlayStation 2 computer entertainment system for 850 points. You can also win gift certificates, free travel, autographed NASCAR equipment and more.
At the My Coke Rewards website, you can put items on wish lists to keep you focused on "the prize," and you can choose the gifts you want to order when you've accrued sufficient points.
Who can sign up?
Anyone who lives in the United States and is at least thirteen years of age can set up a My Coke Rewards account online. There are some prizes that are limited to customers ages 18 or 21 and older, but those prizes will be clearly marked. You can also not be a Coca Cola employee in order to sign up.
How long do I have to collect points?
The My Coke Rewards program began on February 27, 2006 and is scheduled to continue until January of 2007, which means that everyone has plenty of time to sign up! They may continue the program beyond January of 2007, but nothing has been decided yet.
What is the points scale?
As it is set up right now, here is the points scale for Coca Cola products:
| | |
| --- | --- |
| 12-pack of 12 oz. cans (Fridge Pack) | 10 points |
| 20-oz. bottle | 3 points |
| 2-liter bottle | 3 points |
| 3-liter bottle | 3 points |
| 1-liter bottle | 3 points |
Are there any limits for accruing points?
Members with My Thirst ID's can enter only ten codes each day, and each set of points comes with an expiration date. Other than that, there are no limits to accruing points to win prizes with My Coke Rewards.
How do I let Coca Cola know when I am ready to redeem points?
This is one of the easiest point systems in the world. All you have to do is log in to the My Coke Rewards website, and find the reward you wish to select. When you've found it, just click "Get This," and you'll be prompted to enter your mailing information. After that, those points will be deducted from your account.
The My Coke Rewards program is very easy to join, and membership costs you nothing. If you are already an avid Coke drinker, you should sign up online so that you can receive benefits with each purchase. You can check out mycokerewards.com for more information about this exciting new offer.
Enjoy a Free Coca Cola when you sign up with Southwest Airlines
To get 60 FREE My Coke Rewards From SouthWest you need to sign up and you will receive an email with your code to redeem for 60 MCR points and follow-up information regarding your Rapid Rewards account bonus points. You can then redeem your FREE 60 points at MyCokeRewards.com for a Free Soda or you can keep collecting your points for even bigger prizes. Once you do this then why not earn a Free flight while you are at it by applying for a Southwest Airlines Visa Card!