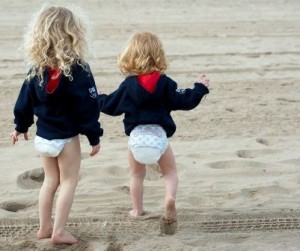 The Pampers Gifts to Grow program is a different approach to consumer loyalty. Packs of Pampers diapers, training pants, and wipes come with a 15-digit code that is associated with a set point value. Point values vary widely depending on the size, item count, and item itself, with smaller packs of less expensive items offering fewer points that large packs of more expensive items. For example, small packs of newborn BabyDry diapers are worth only 10 points, and wipe refill packs generally only earn five points. A Pampers Cruisers package with a count of 36-75 diapers earns 60 points, while a 116-165 count pack of the same diapers earns 108 points. A few items, such as the highest count packages of UnderJams and Extra Protection diapers for nighttime, are awarded 240 points. The codes are easy to find and enter online or on a cellphone, or they can be texted in from any cellphone that has been linked to a Gifts to Grow account. Pampers even has an app available to make entering codes more convenient.
Once enough points have been earned, consumers can trade them in for many different items. Again, values vary widely, with rewards starting at 10 points for a Gifts to Grow donation to a charity, all the way up to 6000 points for a PlasmaCar. For points in between, Gifts to Grow members can choose from items for kids, such as toys, educational gadgets, blocks, and even a day at Sesame Place. For moms, there are a variety of magazines, as well as necessities for babies, including diaper changing pads, diapers, diaper bags, and even a stroller. Many photos and photo keepsakes are available from Shutterfly, making it possible to share the joy of rewards with family and friends. Other than for these Shutterfly items, shipping and handling is free on all Gifts to Grow rewards, so there is no additional cost even for large items.
In addition to rewards for point values on Pampers items purchased, there are also opportunities to save money on other products and services each time the Pampers Gifts to Grow website is visited by a registered member. Along with this, the site provides a wealth of helpful information on different stages, as well as a forum for members to interact with one another. There is even an age monitor that keeps track of the age of a child, and the site highlights interesting and relevant information, articles, and posts that relate to that age group. An extensive FAQ section answers most questions, and information related to both Pampers products and the Gifts to Grow program are readily available.
In general, the Pampers Gifts to Grow program is a great idea. At times the website has problems or codes will not enter, but phone and email contact information is readily available on the website. For moms who are already using Pampers diapers and wipes, the Gifts to Grow program provides them with an excellent value, while it offers an incentive to try Pampers for those using other brands of diapering products. This user-friendly program provides busy moms with rewards that they can use at their leisure, as all points and codes are valid until December 2013. Best of all, Gifts to Grow members are being rewarded for using some of the best disposable diapers on the market. – See more at: http://rewardscards.com/pampers-rewards-baby.asp#sthash.NIMOVtWr.dpuf