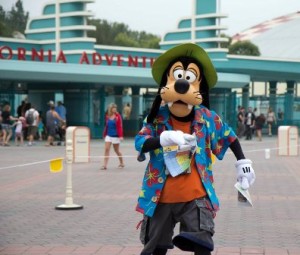 For any Disney lover, the new Disney Premier Visa Card from Chase offers many unique perks and benefits fans are sure to enjoy. Chase offers eight Disney characters design ranging from Tinkerbell to Lightning McQueen, so there's sure to be a card to match your personality. These distinctive and eye-catching card designs are exclusively for Premier cardholders.
Disney Premier Visa Card cardholders can earn valuable rewards quickly. Cardholders earn 2% Disney Dream Reward Dollars on purchases at Disney World, DisneyLand, the Disney Cruise Line, the Disney Store, as well as at restaurants and gas stations. Cardholders earn 1% on Disney Dream Reward Dollars on other purchases. Unlike most cards, there is no limit to the amount of rewards you can earn, so those dollars can add up quickly.
Cardholders can even use the points for airline tickets for their vacation. If you purchase the tickets with your card, you can reward yourself by redeeming the points for a statement credit.
For families who love Disney vacations, the Reward Dollars are a great benefit; they can be redeemed for Disney hotels, merchandise, and theme park tickets. After earning $20 Reward Dollars, simply request your reward, and you'll receive either a statement credit or a redemption card will be sent to you.
Reward Dollars must be used within five years after they are earned, so be sure to regularly check your statement to see what points are due to expire.
Beyond reward dollars, cardholders get special benefits immediately, such as a $100 statement credit after using the card for the first time. Cardholders also get unique perks at the parks, like exclusive character greetings. Cardholders have a reserved place to meet their favorite Disney characters like Mickey and Minnie, as well as a complimentary 5 x 7 photo from the greeting. This is a great perk for anyone with small children, as the lines for popular characters can often be hours long. This ensures you get that signature photo, and still have plenty of time for the rides and shows.
Cardholders also get special discounts at Disney parks and stores. At the Disney Store and Disneystore.com, enjoy 10% off merchandise. At DisneyLand or DisneyWorld, cardholders get 10% merchandise and select restaurants, and 20% off of the cost of special Disney Tours, like the Keys to the Kingdom Walking Tour at Magic Kingdom or the Backstage Safari Tour at Animal Kingdom.
While booking Disney vacations, there are special financing options for Premier cardholders. When you use your card to book your trip, you'll receive 0% APR for six months. This a great way to make a trip to Disney more affordable, as it gives you more flexibility in your budget than booking and paying for your family's trip all at once.
Premier cardholders will occasionally have access to other exclusive savings, such as limited time special pricing on resort stays and even Disney Broadway Shows.
The Disney Premier Visa Card does have an annual fee of $49. While annual fees scare off the casual credit card shopper, Disney devotees should not be put off. Even with the fee, the card is an invaluable tool for families planning their next vacation. There's plenty of return when considering all of the different rewards.
Whether you are planning your next trip or are stocking up on Disney merchandise for the holidays, the Disney Visa Premier Card can be a smart option to reap real rewards for your purchases.