Fifth Third traces all the way back to the Bank of the Ohio Valley, which opened its doors in Cincinnati in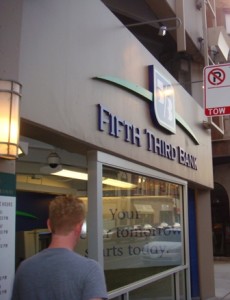 1858. Fifth Third Bank's Residential Mortgage group recently received a top commendation from Freddie Mac, a mortgage investor widely known for affordable housing partnerships. Fifth Third Bank currently has 19,000 employees who provide banking, investment and electronic payment processing services to 5.7 million customers through 17 affiliates in Ohio, Kentucky, Indiana, Michigan, Illinois, West Virginia, Tennessee and Florida. We are proud to bring you these wonderful credit card offers from Fifth Third Bank if you live in their region of the country.
Fifth Third Bank offers a full array of credit card services, as well as some debit card related rewards options to its customers. As with all credit cards, the card you qualify for and the terms of the card will be dependent upon your individual credit rating. All cards offered include full on line account management services, convenience checks, full theft protections and Ready Reserve services. Ready Reserve allows you to use your credit card as overdraft protection for your checking account at Fifth Third Bank.
Customers with no credit or a very low credit score can begin to build or rebuild their credit with a secured MasterCard. Simply deposit as little as $300 in a savings account and this amount will be your credit limit. Payments will be reported to the major credit bureaus and can rebuild your credit over time. There is a $24.00 annual fee for this card.
Students can also begin to build credit at Fifth Third with a Student MasterCard. There is no annual fee as long as the card is used at least once during the year. Given the high risk of student credit cards, there is a high interest rate associated with this card—prime plus 6.99%. Young people should be especially careful of accumulating high interest credit card debt; however, a student card like this one can also allow the opportunity to begin building a good credit score.
Both a Cash Rewards MasterCard and a Signature Rewards Visa are also offered. These cards have competitive interest rates and low introductory balance transfer rates.  The Cash Rewards cards offers a 1% cash reward on spending while the Signature Rewards card offers rewards points for each dollar spent. Neither card has an annual fee and both can be used for overdraft protection at Fifth Third.
Customers with excellent credit have several options available. The Platinum MasterCard offers no annual fee and a 1.9% low introductory APR. Road assistance, travel assistance and travel insurance are all options with this card. The Platinum Prime MasterCard has the lowest interest rate offered, at the WSJ Prime Rate; however, does have a $85.00 annual fee.  There is a 6 month 0% introductory APR on both purchases and balance transfers. If you are looking to consolidate credit card debt, this card may be an ideal choice.
A Professional MasterCard can allow business owners and others to get additional rewards for utility costs, office supplies, and restaurants. Rewards points from various Fifth Third credit cards may be combined. Interest rates are competitive, with a 1.9% introductory rate for the first year and a 3.9% rate on balance transfers. While the Professional card is clearly geared toward business people, others may also find the rewards options ideal.
Fifth Third Bank – Reward Card

Earn a 1% Cash Reward with the new Fifth Third Bank Cash Rewards MasterCard
1% Cash Reward compares to the Fifth Third Bank Platinum MasterCard but with rewards!
0% Intro APR* on purchases and balance transfers with the Platinum Card
Zero liability on unauthorized purchases
Up to $30,000 Credit Limit
Available only in OH, IN, KY, FL, IL, MI, MO, PA, TN, WV, WI – If you do not live in Ohio, Indiana, Kentucky, Florida, illinois, Pittsburgh, Tennessee, West Virginia, or Wisconsin then apply for other credit offers.
Apply Now! It's fast, easy and secure.