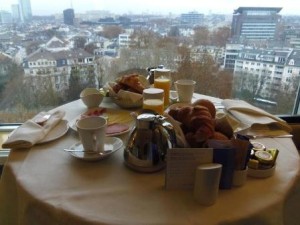 Everyone loves staying at a nice hotel when they are away from home on business or leisure, and Hilton hotels offer some of the best accommodations in the world. Luckily, there are many ways that people can earn free stays in Hilton hotels. There are many travel websites that help people find the best luxury hotel deals. Luckily, Hilton hotels provides a number of different programs that allow people to earn free stays at luxury hotels around the world.
The Hilton HHonors program is your ticket to free hotel stays and other great rewards at popular destinations around the world. Members can earn points when they purchase cruises and train travel packages. They can also earn points for hotel stays, car rentals, dining and shopping. These point can be redeemed at over 3,700 Hilton-owned hotels all over the globe. Members can also exchange miles from over 30 different airlines for HHonors points.
HHonors points can be used to book free rooms at Hilton hotels, and they can also be used for room upgrades. In addition, the Hilton rewards program also lets people choose tour and vacation packages that let guests explore local attractions. They may also use points to purchase stays at all-inclusive resorts in a number of luxury destinations around the globe. Members can choose to stay at Homewood Suites by Hilton, Hampton Inn, Hilton Garden Inn, Embassy Suites, DoubleTree by Hilton, Hilton Hotels and Resorts, Conrad Hotels and Resorts and Waldorf Astoria Hotels and Resorts for free when they have accumulated enough points. Hotels are divided into seven different categories, and each category requires people to spend a different amount of points for a free night. Members can stay in a category one hotel for as little as 7,500 points, but they will have to spend more than 60,000 points to stay at a Waldorf Astoria hotel during the peak season.
The Hilton HHonors Signature Card from Citi offers one of the best ways for people to earn free stays at Hilton hotels. People who obtain one if these Visa cards can earn as much as 40,000 points if they spend $1,000 with the card within four months of opening their account. In addition, card holders can earn six points when they spend $1 at one of the many Hilton hotels around the world. HHonors visa card holders also get three points every time they spend $1 at gas stations, drugstores and supermarkets. These cards come with no annual fee, and memebers earn two points for all other purchases that they make. However, these cards are only available for people who have excellent credit records.
The Hilton hotel chain also frequently offers specials that allow guests to earn free stays if they meet certain booking requirements. These special offers usually last for three months, and people must meet certain requirements during this time period. They usually have to spend at least 10 nights at Hilton hotels or book four separate stays in order to get a free night. Guests may also use this opportunity to get twice the number of bonus points that they usually would. These promotions are offered sporadically, and guests are required to register for the giveaway that they prefer. In addition, certain Hilton-owned hotels and promotional rates from popular travel sites will not qualify for credit that guests can use towards free stays.