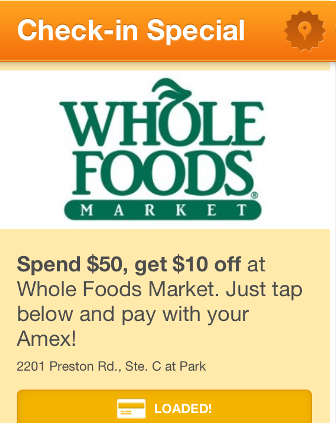 The commonly held public perception is that credit and finance are stodgy and boring. American Express is trying to change that belief by embracing social media and offering customers bonuses for mentioning their name online on social media platforms. Specifically, they're leveraging the awesome power of Facebook, Twitter and Foursquare to generate a little positive exposure and snag some free advertising. Here's a brief summary of the available offers pertaining to American Express as well as how to capitalize on them.
Facebook Bonuses
As the granddaddy of social media, Facebook is the logical starting point for social ad campaigns for any brand. The Facebook promotion for one credit card company allows users to sync their cards with their Facebook account and check out special offers through the "Link, Like, Love" program. The savings are made more convenient via Facebook Places, which allows users to check in at specific locations for instant discounts. This is isn't the first partnership between Facebook and Amex. American Express launched their Serve application last year, which allows Facebook users to send money to friends free of charge, like a credit card-linked version of PayPal. "Link, Like, Love" is rapidly gaining fans and has proven to be a resounding success for American Express and Facebook. It's a win-win situation for both companies, as well as consumers who can rack up serious savings by making everyday purchases.
Note the current offer with Whole Foods for a one time use is $10 when you spend $75.
Twitter Offers
The microblogging platform Twitter has really come into its own lately as far as ecommerce and Internet marketing are concerned. As such, it's no surprise that American Express is leaning heavily on Twitter for their current promotion. The Twitter deal for American Express involves syncing your account with your Amex card. Once you've signed up, all you have to do is tweet the hashtags of specific offers to your followers to be eligible for cash back deals on purchases. The response to the Twitter promotion is already netting results, as millions have hopped on the bandwagon in the first week alone. Users can save $5 or $10 dollars here and there on purchases of everything from McDonald's meals to Zappos shipments. Participating companies include H&M, FedEx, Virgin America and many others. While those savings may not seem like a whole lot individually, they can seriously add over time. If you use your American Express card regularly and love to tweet, there's no reason not to sign up. My favorites are Whole Foods and Best Buy where you can send a simple tweet and get $10 back automatically loaded to your AMEX card. This offer works on all of their network cards if you have a Pen Fed Card or even a Premier Rewards Gold Card. Who says Twitter is a waste of time when you can make money from savings such as these?
Foursquare for The Win
Finally, Amex is using the social check-in service Foursquare to deliver deals and savings to users. Taking advantage of the American Express Foursquare deal is fairly easy and straightforward. Just sync your card to your Foursquare account, check in when you visit a business and watch the savings roll in. Once special offers are loaded, all you have to do is use your card at a participating business and the discounts will automatically be credited on your statement. American Express is specifically targeting South By Southwest 2012 to promote their special partnership with Foursquare, offering $10 for merely checking in at chosen locations in and around Austin, Texas. Amex has actually been partnered with Foursquare for awhile now, and they've been offering discounts on purchases above a given amount since March 2011. The program has already proven its worth as Foursquare users have heartily embraced the effortless savings accrued simply by using their credit cards.
The Wrap
So why are companies like American Express doing this? Because the whole campaign is genius, that's why. Rather than placing extremely expensive advertisements in high-profile venues like Times Square billboards and Super Bowl commercial breaks, they're spending a trivial amount of money for greater exposure. Using social media to create online "buzz", they're employing a form of viral marketing to reinvigorate their brand. Whether you love or hate American Express and credit card companies in general, you have to admire their forward-thinking take on social media promotion.
Add us to Facebook to see more tips and reviews!
– See more at: http://rewardscards.com/tweets-cashback.asp#sthash.ktLgCPEz.dpuf