When looking for a card that offers its customers something more than just a line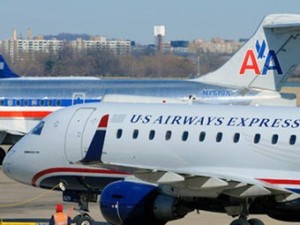 of credit, consider the US Airways MasterCard, underwritten by Barclays Bank Delaware. With four cards to choose from, and one of the best bonus miles programs in the United States, US Airways Dividend Miles MasterCard is an attractive choice for the jet-setting consumer.
The four different US Airways MasterCard choices that are offered include: the Dividend Miles No Annual Fee MasterCard, with no annual fee and up to 5,000 bonus miles upon first use; the Dividend Miles World MasterCard, with more benefits for only a $49 annual fee, and up to 10,000 bonus miles; the The US Airways® Premier World MasterCard®, with the most ways to earn rewards for just $89 annually, and 40,000 miles when it is first used for a purchase; and for the Business Traveler the Dividend Miles Business MasterCard, for a $79 annual fee and up to 25,000 first use bonus miles. All new credit card customers are also eligible for up to 10,000 bonus miles on balance transfers to their new account within the first thirty days.
There is no other airline reward card that will offer as many bonus miles or rewards as these. A Dividend Miles Premier World customer could earn a free flight with their first purchase and approved balance transfers. No Annual Fee customers enjoy some basic benefits as well, such as earning one mile for every two dollars spent, Master Assistance Services, Emergency Card Replacement / Cash Assistance, and MasterRoad Assist. All cards come with Zero Fraud Liability.
The Dividend Miles World and Dividend Miles Premier World MasterCards both give customers no preset spending limit, access to upgraded dining and entertainment, the opportunity to purchase (a limited number of) companion tickets at a discounted price, and one mile for every dollar spent. The Premier World MasterCard stands alone with great benefits such as double miles for US Airways purchases, preferred zone 2 boarding, preferred first-class check-in, a complimentary US Airways Club pass each year and a discounted rate towards regular membership, World MasterCard Price Protection, and more.
The US Airways Business MasterCard offers business owners the same great benefits, plus additional cards for employees to earn more rewards, no limit on the miles that can be earned, plus extra miles are earned for every purchase made at one of their preferred merchants.
The application process is simple, available online or by phone, and applicants usually receive a decision within seconds. If it's time for a new card and time to do some traveling this is a card that should be considered. With all of these benefits, and more, it is clear that a branded US Airways card is definitely an outstanding choice for travelers who want their card to go the extra mile for them.