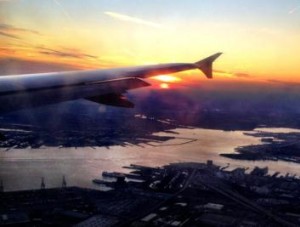 Below is a list of the top ten credit cards that can generate ultimate frequent flyer miles for you or your business travel starting out with American Airlines AAdvantage program's plastic that will earn you a trip fast with 30,000 bonus miles. Some of our top cards are selected because they offer travel rewards without having to be restricted to a certain airline. In generating this list of top travel cards we looked at the annual fees, foreign transaction fees, free bags checked fee-free, amount of bonus travel points or miles earned, blackout datlocaltreechildrenes, and concierge services provided by the cardholders. The end-of-the-summer travel is closing in on us and you better get your elite status soon with these airline cards and find out yourfastest ways to free flights.
Chase has a few new cards that stick out when it comes to travel rewards but one that really stood out is the Chase Sapphire Preferred(SM) Card. Chase offers a card that gives you more freedom to choose what you want to do with your miles and also serves as a great travel companion to have earning rebates in certain categories. Our Favorite Card for 2013 is the BarclayCard ARRIVE which is free for the first year and gets you $400 in FREE Travel!
Why you need these bonus 100,000k British Airways points – This credit card could be the magic you have been looking for when it comes to last minute trips for US Short Hauls. It could easily be our #1 card right now because of their 100,000 Avios point bonus which can be used as AAdvantage miles. You also score another huge benefit with this card being that you have NO Foreign Transaction fees.
United Mileage Plus Signature Visa – A smart traveler option to save on the checked bag fees.
Starwood Preferred Guest – My favorite travel related credit card. This is a hotel rewards card that gives you a bonus when you transfer miles to airlines at a 1:1 ratio. No annual fee the first year. 30,000 Bonus Miles/Points offer.
Southwest Airlines – Now with AirTrans they have more Atlanta coverage. Who needs First Class when you can fly for free? Southwest also just changed up their rewards program to make it easier to fly free and miles never expiring.
Delta Skymiles – One of the most popular frequent flyer programs offers a first year no annual fee card. Delta has recently came out of bankruptcy, merged with Northwest Airlines and changed its image with a new logo and hot credit card offering. Now offering 30,000 bonus miles.
You may also consider the Citi Premier Pass. Another favorite pick for a frequent flyer miles card is the Citi Premier Pass. The Premier Pass gives you two cards to pick from but both of them give you miles on air travel plus miles on dollars spent using the card. The merchandise rewards or cash credit to your account start as low as 1,000 points. Roundtrip air travel rewards start at just 25,000 points and there are no blackout dates. With the Citi Premier Pass you can earn up to 100,000 points per calendar year; 50,000 of which can be Flight Points (miles flown). Venture Rewards from Capital One offers double miles cash back with easy redemption. The above cards are the best from all of the cards we recently reviewed.
Additional Frequent Miles Cards to help your travel needs in 2011 include Escape by Discover Card and the Premier Gold Card where you can Earn Triple with airline purchases with this card from American Express with any airline. No annual fee for the first year.. The Escape gives you plenty of miles but does come with an annual fee. If you wish to apply for a Discover Card that gives you miles with no annual fee then try this card. Other Airline Frequent Flyer miles cards not listed in the top ten including National & International air rewards credit cards:
Premier Miles and More® World MasterCard
See why AirTran Airways (recently taken over by Southwest) Ranked #1 in the 2008 Airline Quality Rating report and how you can benefit with their rewards program.
HSBC Fly Rewards – No Annual Fee and choose between flyer miles or cash rewards. 0% APR offer associated with this card. Fly any airline.
Jet Blue Airlines – The airline known for the Jet Setting experience has a credit card. Jet Blue has been a J.D Power choice for consumer excellence in the past.
Alaska Airlines – Increased to 20,000 miles!
Virgin Atlantic – Earn more Flying Club miles for TransAtlantic get-a-ways.
Virgin America – now new non-stops from Love Field in Dallas.
US Airways Dividend Miles
Free Spirit rewards from the low cost airlines
Are you a student? There are a few cards that offer miles for those enrolled in college.
Thinking about traveling? Learn about traveling with a weak dollar and how exchange fees can add up when overseas. Also, find out how traveling abroad can be easier with your expenses mapped out on an American Express card. Looking for an alternative to Travelers Cheques? Prepaid credit cards. | Reasons to carry a credit card when you travel.
Frequent Flyer Articles:
Free 20,000 Frequent Flyer Miles?
Vote for your favorite Frequent Flyer Mile Credit Card and tell us why and you could win 20,000 American Airlines miles for the best article and runners up get 10,000 and 5,000 miles. You may also choose another airline if you do not fly American as long as it is possible for us to buy miles through that program. Email us atask@rewardscards.com your complete article longer than 300 words. Your article may be featured in our new upgrade to RewardsCards.com v2.0 and our new travel APP coming in Fall 2012.