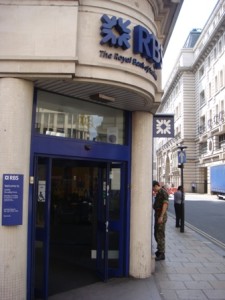 This summer I took a long needed vacation to Paris and London.  It was my first time so you could call me a virgin of the Atlantic even though that is not the airline I flew.  I am Gold status with American Airlines so I choose them for my flight and enjoyed my business class upgrade on the 777 using miles and paying around $350 extra per ticket they now charge.
Just when I thought that my biggest expenses would be the hotel and airfare I was wrong.  I had no idea that dining out could cost so much money.  Not just because our currency is worth half as much as a pound or because the euro is worth so much more.  Not because the meals are more expensive and inflation seems higher in both Paris and London.  But because of my friends I carry around in my wallet that normally dish out rewards to me.  My little plastic friends that I trusted to keep my wallet safe from cash.
I love credit cards and earning rewards it can sometimes be an addiction but not in this case.  I spent money on these cards knowing I would not get back huge rewards after the foreign transaction fees weighed in and I sort of knew their might be fine print surprises that are in my cardmember agreements that I normally do not read for every card.
The nightmare began with my RBS credit card.  RBS, known as the Royal Bank of Scotland, pays me a 3% cash back on what I spend the most on per month and sends out rewards in $50 increments so I normally use this card for restaurants and bars.  This was absolutely the worst card to use for this purpose while in Europe.  RBS which has banks in London and should have no excuse for charging these fees put on a $1.50 Foreign Transaction Fee for every charge out of the U.S.
Funny story is that I went in the Marks & Spencer Simply Food store and purchased a drink for $2.09 GBP at exchange rate of 0.52250 which came out to $4.00 (nearly double minus a few pennies).  RBS also added on a $1.50 Foreign Transaction fee making this little drink cost $5.50.  What is worse is that I had no idea they charged this so I went in this store almost everyday for a drink and one day I went in there several times using the same card because I forgot certain items.
This $1.50 that RBS CustomCash charges is the minimum amount so that means that you will at least be charged this no matter how small the transaction.  This should be illegal and Congress and Senate should be taking a look in to these predatory practices from foreign banks such as RBS.  I called customer service and they would not do anything in terms of even waiving one $1.50 fee.  They would not budge at all and gave me the impression they could care less that I have been a good bill paying customer of theirs.
Most people who do their research know that Capital One is the ONLY credit card you should use overseas.  Capital One reimburses the 1% fee that Visa or MasterCard charges them.  Many are surprised that a fair credit type card issuer would do such a thing because they are normally known for fees not freebies.  But this puts them at an advantage against other credit cards.  Household Bank which is also a fair to good credit issuer charges the full 3% that most cards charge including Chase and Bank of America.
American Express only charges 2% with most of their cards for foreign transactions.  So AMEX should be your second choice when traveling out of the U.S.  Make sure you leave your RBS CustomCash card at home or just cancel it anyway since they no longer deserve any U.S. customers after ripping us off like this.
Best Cards to use abroad
American Express Credit Cards
Discover Cards (Canada, Mexico)
The Worst = RBS, Household, Chase, and Bank of America.
Using My ATM Card in London and Paris
I quickly found out that E*Trade which prides itself on not charging ATM fees (well they reimburse you for ATM Fees with no limits) did allow the fees if not in the United States.  E*Trade let the banks charge me for my foreign ATM fees but I did not see any other fees attached to these.  I recommend using Bank of America ATM's in foreign countries because they have many partner banks in countries such as London.  I think Barclay's is one of the partners that Bank of America uses for ATM's where you will get no extra fee.
HSBC seems to be the bank of all banks if you lived in London or Paris.  You see their signs everywhere on the airplane gates, on billboards, on subways.  It was hard to find one in Paris but the banks I saw all over London.  The ATM machines were all over the place and they displayed signs that you get no fees even if you use a ATM from another bank – I assume they only mean the area banks.
A few of the ATM transactions I had with HSBC ATM's using my E*Trade debit card were
1.  200.00 Pounds which came out to $372.41 USD
2,  100 Pounds which came out to $187.22 USD
It may have been a wiser choice to use an ATM Card no matter the banks involved and getting the Pounds than to use a credit card if you did not have the advantage of carrying a Capital One card.
Why didn't I have a Capital One card on my trip to London and Paris?
I applied to get the No Hassle Card with Excellent Credit and I was denied because I had too many credit inquiries just before my trip.  I called the 800 number and tried to get Capital One to look over the application again but never heard anything back.  They said they would look into it but I never got a card in the mail nor did I even receive an email or letter back from them.  I assume with the Sub-Prime credit crisis going on right now that Capital One is one of the banks that has to be more choosy with things such as credit inquires and even with excellent credit you have to limit the amount of credit card applications with other banks with a few months time.  Hopefully I will get a Capital One card soon to use on my next trip to Europe.