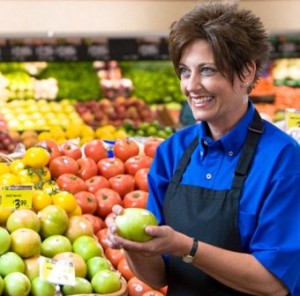 Kroger is the nation's largest grocery store chain being larger than Walgreens but smaller than CVS Pharmacy in terms of revenue. Ranked 26 on the Fortune 1000 list they are quite smaller than mega Wal-Mart but most cities have some sort of Kroger presence and if you know how to play your "cards" right then you can save more money than dealing with clipping coupons or chasing pennies. Kroger owns Food 4 Less, Ralph's, and King Soopers just to name a few. You can actually get free groceries by using the grocery chain's 1-2-3 Rewards MasterCard.
Ways To Save Money at Kroger Grocery Stores:
Use your Kroger Plus Card
Get a free item each week with the Free Friday Download. From free bottles of juice to free energy bars each Friday. You normally have a few weeks to use the digitally downloaded coupon and can find the item easily at the front of the store.
Watch for 10 for $10 sales
Use digital and print coupons
Buy generic items
Look for manager's specials
The Points add to free groceries
Every 1,000 Points amounts to 5 bucks. If you spend $750 in purchases outside Kroger owned stores it amounts to $750, then if you add $400 in groceries and more inside a Kroger store that is 800 points, and you get a bonus for buying quality brands in Kroger so the $150 spent on those could be 450 points. This totals 2,000 points which is $10 in free groceries in a month. If you keep up the charges on this card it will be around $120 a year in grocery savings. You earn unlimited free groceries and no purchase goes without a reward point that adds up.
Save on Fuel
The best part of this MasterCard is not what you save on groceries but what you save on fuel if you are fortunate enough to live by a location that has fuel. You save 15 cents per gallon at the Kroger fuel centers. Kroger also has a relationship with Shell gas stations and Fuel Rewards.
The 1-2-3 Rewards MasterCard offered by Kroger Finance can be used along with your Kroger Plus Card to save even more.
Redemption
You automatically get certificates mailed out to your home 4 times a year (each quarter) if points are over 1,000. If you do not meet the minimum threshold then the balance will just carry over until the next month. You cannot redeem these free grocery certificates for cash they are for use in the family chains of Kroger stores only which is a bit of a hassle if you are not a frequent shopper and want the card for gas savings alone.
How can I get this Kroger MasterCard from US Bank?
This card may have a bit more hassle than some cards but if you are a frequent Kroger consumer you need to have it. The number for the 1-2-3 Rewards MasterCard from Kroger is 1-800-576-4376.