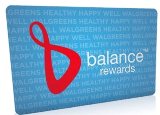 Trying to keep up with its closest competitor, Walgreens are offering their own rewards card program starting in September 2012. The program, called Balance Rewards, will help customers save money and create brand loyalty to the pharmacy chain. CVS has its own card, called Extracare, that is popular with their customers. Here is a look at how the two programs compare.
Balance Rewards works on a points system. Various items in store, as well as prescriptions and immunizations, are worths certain amount of points. Some products will be worth more points during promotional periods, and cardholders will be able to save extra money on certain items by presenting their card. Points can also be earned when customers link their Walk With Walgreens account. Points can then be redeemed for items in store using a conversion to Redemption Dollars. For example, if a customer earns 5000 points, this equals $5.00 that can be spent in the store.
Earning points is easy since points values will be assigned to lots of products in th"e store, plus you can earn points when you fill a prescription or get an immunization such as a flu shot. Also, you can earn 10 points for every mile logged under the Walk With Walgreens program. Additionally, AARP members can earn extra points by shopping each month.
Balance Rewards has a focus on helping Walgreens customers live a balanced, healthy life. By utilizing the walking program and in store flu shots, customers can earn points more quickly, and save money by living well.