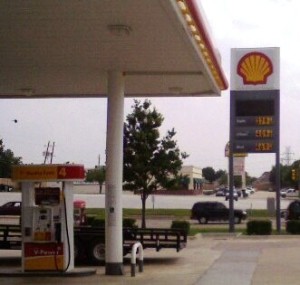 With today's high gas prices, many of us are looking for ways to cut our fuel costs. While driving less is an option for some people, most of us will still feel the pinch at the pump. You may have heard that some rewards cards offer specific gas rewards. One of these cards is the Shell Platinum MasterCard. The Shell MasterCard offers a 5% rebate on fuel purchased at a Shell gasoline station. While Shell offers some other cards, including prepaid gift cards, the Shell MasterCard is the best bet for your gasoline purchases. Rebates for other purchases are a reasonable and fair 1%.  While you should always review all credit terms carefully, you may be pleasantly surprised by the options offered by the Shell credit card.
Tip: Join this program to save 25 cents a gallon on gas at Shell stations across the U.S.
What does that 5% rebate on Shell gasoline purchases actually mean to your wallet? Well, with gas at around $4.00 a gallon, 5% amounts to $.20 a gallon or a savings of $3.00 on a 15 gallon tank of gasoline. Your Shell rebates are automatically redeemed when you purchase gas at your local Shell station. While you can certainly save a substantial amount on your gasoline costs, there are several factors to consider before you apply for a Shell credit card.
First, if you do not have a convenient Shell station, you will likely be better off opting for a good cash back rewards card. While the rewards may be lower on the whole, if you will not regularly take advantage of the 5% Shell credit card reward, avoid applying for this card. You may, if you feel comfortable carrying several credit cards, want to use this card solely for your gasoline purchases and a good cash back reward card for other purchases.
The Shell MasterCard offers no annual fee for the first year, and annual fees thereafter will be waived if you make at least 9 Shell gasoline purchases in the prior year. A 0% introductory APR for 6 months is another great benefit of the Shell credit card. As you might expect, the card comes with excellent customer service support including online account access. Furthermore, a 20$ credit will be applied to your account for your new Shell MasterCard. Your new Shell gas card account will be managed by Citibank, thus ensuring that you have all the support and benefits accorded every Citibank customer.
While the 5% rebate offered with a Shell gas card can help you save on today's high gas prices, you should also keep in mind that using a credit card for regular purchases may leave you carrying a higher card balance than is ideal. With typical credit card interest rates, if you do not pay your Shell gas card balance in full you will end up paying even more than the rates at the pump for your gasoline.
Update (4/5/12): The current card offering from Shell and Citi Cards is a Earn 10¢ per gallon or more with your Shell Platinum MasterCard. To get the discount gasoline on the new card offering you must make qualifying purchases of at least $500 in a billing cycle.  A credit of 10¢ per gallon or more will appear on your next billing cycle for the first 100 gallons of Shell gasoline or diesel purchased. This does not sound as easy as the 5% rebate they once offered but if you have a family of two or more including a teenage driver this may really save you with the current $4 plus gas prices.
Summary of Shell MasterCard Benefits at the time the article was first published a few years ago included a 5% rebate on Shell gasoline, 5% rebate on the first $100 of daily Jiffy Lube purchases, 1% Shell gasoline rebates on every other purchase you make with your card, Automatically redeemed against future Shell gasoline purchases made with your card, and a $20 Credit applied to your account. One of my favorite benefits of this Shell 5% MasterCard is that it gives you the price of paying cash at stations that give discounts for cash over credit card payments.  This is huge if you live in cities that have these Shell gas stations because you not only get that savings of 3% or so but you get the 5% cash back.
Compare the Shell MasterCard:
Over the past few years Shell gas stations have grown dramatically and you sometimes see so many of them that you might have one or more on each corner of an intersection. Various consumer rights groups think of Shell as a monopoly in some cities while others welcome their quality gasoline products. In addition for earning a $25 statement credit, consumers will also receive these benefits of the Shell Gasoline Card: Pay-at-the-pump, or pay in-store, for all gasoline and convenience store purchases; acceptance at thousands of Shell stations nationwide; quick access to cash at ATMs in service stations, banks, malls and grocery stores around the U.S. (Cash advance fee will apply); online account management; and flexible payment terms.
The Kroger Plus Loyalty Card Can Save you 10 Cents off Per Gallon
Starting in February 2010, Customers who use the Kroger Plus loyalty card will get 10 cents off per gallon at participating Shell stations after buying $100 in groceries.  The discount is available in Nashville, Knoxville, Tennesee, and San Diego. It was just added to the Cincinnati area, including Butler and Warren Counties and Dayton area extending to Springfield. This is something that is a no-brainer when it comes to saving money on your most dreaded expense. Groceries you must buy and gas you must have to get to the store in the first place so to remember to use your Kroger card and then fill up at a Shell station after is a great promotion they have came up with. Kudos to Shell and Kroger!
Related Credit Card Articles: Gas Savings Tips, Prepaid MasterCard, Hotel Credit Cards, Airline Mile Cards